What's in a name
Many thanks to "Sir Randal Scott" of the Festival of Cultures for emailing me back with the name of the Hoop Dancer seen in my earlier posts. Dennis Lee Rogers is a Navajo artist and cultural educator who travels around the world sharing his culture. His art forms include Navajo Sandpainting, the Hoop Dance, and Northern Traditional Dances. He also speaks about Navajo Silversmithing, reservation life, tribal issues, Indian laws & legislation, and Indian gaming.
According to "The Dancing Ground," his Navajo name, which was given to him by his grandmother when he was 5 years old, is Ashkilasaah, meaning the light-complexioned boy, on account of his relatively fair skin. Although, I still think the name "Smiling Eyes" suits him well.


At our event, he shared with us his fantastic Navajo hoop dancing and various Navajo traditions. He speaks with respectful tones about his people but was approachable and animated with the children. I found his demonstration quite fascinating, as is evident by this, the third post on the same topic! I thought about why I found him so interesting and I came to the conclusion that he was, in fact, the first Native American I've ever met and had the privilege of learning from. I'm 39 and that was my first encounter. I'm relatively sure I don't live in a cave. I've lived abroad, travelled around Europe and much of the east coast of the US, but I've never been to the mid-west/west. The only Native Americans near here are usually employed at gaming casinos like Foxwoods and Mohegan Sun in CT, where I've only been twice. And even then, it wasn't like everyone who worked there was Native American nor did they were their culture on their sleeves.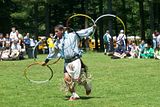 The fact that he devotes his time to sharing, and thereby preserving, the culture of his people is noteworthy and certainly worth this third post. Most Native America traditions, beliefs and customs are learned by word of mouth, the older teaching the younger. By sharing and teaching others about his people and their history, he is breathing new life into their culture. I'm not sure that those participating in his educational events will incorporate Navajo customs into their daily lives.
But maybe, thanks to Dennis' demonstration, they'll remember the day they all danced together to the Navajo drum beats in the Circle Dance and smiled, holding hands with strangers. And for a few moments anyway, they were happy to be together and alive and appreciating the day and simple things like the earth, eagles and butterflies, and that is something worthwhile. My son still likes to imitate Dennis' "eagle" as he flies around the living room with his arms outstretched. Hopefully our upcoming trip to a local raptor center will fill him with even more knowledge and love of eagles and nature.

There are four working farms within five miles of my home, still more trees than people and an abundance of farm markets and country stores. Even though I live in the country, I still feel like many people here have lost their connection with the land and nature. I remember going for a walk one day on a country road and man in a car pulled over to ask if I was okay. I told him I was just walking, he said, "Why? Did your car break down?" People get in their cars to get to the other end of the supermarket parking lot here. It's a pity. You miss so much when you're flying by at 55mph.
I have a friend who is very in touch with this. She lives in Australia but misses her native New Zealand. She feels that "in New Zealand, the land is so vital to the people, it seems to pervade the senses…" That, in this day and age, there is still "a people" who are connected like that, is hopeful. Perhaps we haven't lost all hope with regard to caring for our planet. That the inspiration should come from a very tiny country on the other side of the globe, makes it even more hopeful to me somehow.
Read more about Dennis in this wonderful article about his trip to England for a cultural event there.
From "The Dancing Ground:

"...he told us that to dance in a circle was a very special thing, and that the place we stood on would always be for us the Dancing Ground. Whenever we returned, we should visit it and say to ourselves, "This is the Dancing Ground."

He then gave a magnificent demonstration of the dances which had earned him honours in dance competitions across America. These included traditional dances, which enact stories from Navajo culture, and a series of very acrobatic dances with a set of multi-coloured hoops. Everyone enjoyed the demonstration immensely, and felt imbued with the spirit of the Dancing Ground. Finally, he invited us to join with him in a circle dance and a serpent dance, so that we could enter into the spirit of the Native American dance."

More about Navajo culture & dances:
Teaching Virtues

Deer Dance of the Navajos

Conflict Between Two Worlds

Living in the Navajo Past
Related Posts: "Black & White" & "Festival of Cultures"