Festival of Cultures
Dennis Rogers, Navajo Hoop Dancer
Didn't get picked to be a chaperone for my son's field trip today, so I decided I'd just crash anyway! The "Festival of Cultures" by
Green Meadows Productions
is designed specifically with children in mind. All of the shows engage the students in their songs and dances and challenge their knowledge of the cultural information being presented to them.
It was quite an entertaining show, even for the adults. And with the near 90 degree heat today, I think I might have lost a few pounds during the Native American dance everyone joined in. Clearly, the leader of the dance is an aerobics instructor in his spare time. Great fun though.
Here's a few shots from today's show.
(The picture above: This was a wonderful Navajo "hoop dancer" in the Native American show. The hoops represent the circle of life. As he danced, he would interlock the hoops, working them around his body while dancing to the rhythmic drumming, forming different creatures and life entities with them. The earth, sunflower, a ladybug, butterfly and my favorite, the eagle. It was an amazing presentation. I found him, and his hoops, in the shade between shows. People were wilting in the heat and he seemed unfazed. I was struck by his face, the eternal calm and peace he seemed to have, just smiling there in the shade. Maybe he was enjoying the children running around. Or maybe he was pleased with his dance. I don't know what he was thinking, but he had a great smile.
When I asked to take his picture, he put the rings around his neck and shoulders and rested his hands in them. His hands were also striking in their strength and unity with the hoops. I wish I spent some time with him asking questions but I had to catch up with my son's group, that... and...I got shy all of a sudden! lol...
(I liked the pic so much, I tried it in black & white...click to enlarge)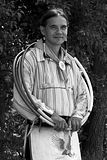 The Aztec Indian dancer with full headdress. A very funny guy (and great dancer) who tried to convince us that his people invented the Mocha-Latte-Frappucino! = ) Here he is in a more serious moment...
(click to enlarge each photo)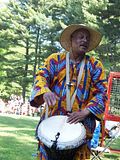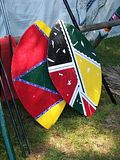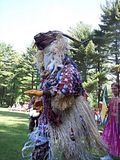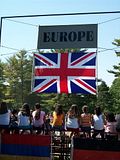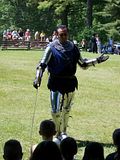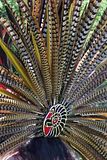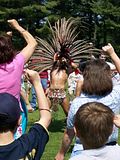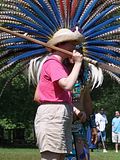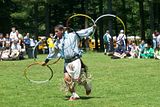 Related posts:
"What's In A Name"
&
"Black & White"