Maya Cafe
Maya Cafe & Cantina, Route 9, Fishkill, 845-896-4042
Cafe Maya, Route 9 Cold Spring, 845-265-4636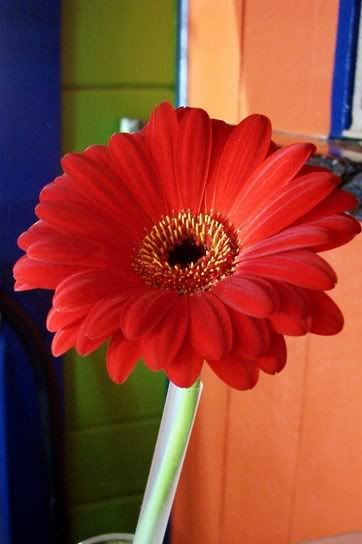 My favorite local Mexican restaurant,
Cafe Maya
, finally moved to its new larger, mucho closer location in the former Moog's Bar across from the former Dutchess Mall, and changed the name to
Maya Cafe & Cantina
. The walls are filled with hand-painted Mexican murals, pottery and colorful fabrics. The tables and booths are simple and spacious. I might drop in and give him this photo of the gerber daisy. It was on the table there at lunch.
I had a terrific cheese chile relleno, filled with creamy queso blanco cheese, fried to perfection in an egg batter and served with a red enchilada sauce and the standard sides of rice, refried beans and guacamole. My friend had the sour cream chicken enchiladas and the sauce was creamy and well-seasoned. Our other guest had the Cochinita Pibil, a Yucatan seasoned pork served with traditional pickled red onion and tortillas. The steak tacos are tasty topped with fresh pico de gallo.
At previous visits to the much more intimate and diner-like (and BYOB)Cold Spring restaurant, I've had terrific grilled flank steak dishes, chicken dishes with freshly made tomatillo sauces and various appetizers. All the meals have such wonderful, authentic flavors and seasonings. The guacamole I ordered there was handmade in front of me in an authentic
pig-shaped mortar bowl.
Pinch of this, handful of that and it was perfect!
The owner, Luis Pinto is busy in the restaurant seating and greeting people, serving the meals and being a wonderful host. He welcomes you as if you were a guest at his house. A great place for business lunches and a terrific family restaurant.