Welcome Spring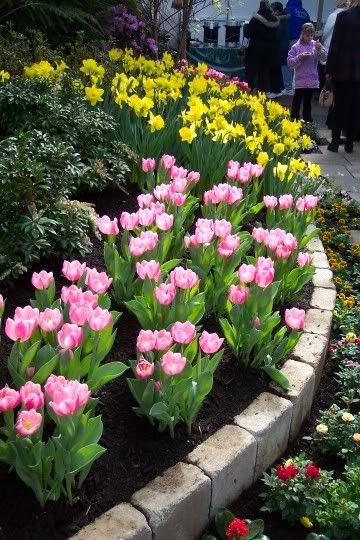 Spring Garden Show
Adams Fairacre Farms
Poughkeepsie, NY
Ah, the first day of spring! A balmy 41 degrees today. Ah? And here I was all ready to pack the winter gear away and rake out the garden. It'll keep.
I visited the a local farm market earlier in the month for their annual Lawn & Garden Show. Here's the recap from a winter-weary, quite possibly too-caffeinated flower lover, me.
Spring sprang for a few brief, color-filled days this past weekend at the Adams Lawn & Garden Show in Poughkeepsie. Did you blink? Did you miss it? I saw it! Spring in a greenhouse! What a relief from this week's bitter winter weather. You could almost hear the visitors exhaling as they entered the greenhouse, shedding their winter layers, "Ahhh! Spring!"
They were greeted immediately by beds of bright-colored tulips blooming next to cheery, yellow daffodils and low-growing primrose. And look! Over there! Live ducks in a pond! Oh, for me? Thank you! My very own Marigold! *sniff* What's that smell? Oh! Hyacinth, my favorite! And fountains and gazebos and roses, oh my! Look! How did they get the magnolia tree to bloom in February?! It was a flower-induced delirium.
How did they do it all? Tulips in February? The magic hands of a gardener should never be underestimated. If they want tulips in February, well, they'll find a way to have them! And have them, they did, in beautiful carefree masses, up black-dirted slopes, around gently curving walkways, aligning a wooden bridge arching over a trickling stream and, over there, abutting arbors near the first forsythias! It's probably the only place in Dutchess County where tulips are safe from hungry deer. Come to think of it, I think I saw a few drooling outside the windows!
Even though it was a fabrication of spring, it was a welcome one. I'll take fake if it means I can shed my coat for a little while and daydream in full living color about spring. And even though the real spring is still a few weeks away (blasted groundhog), the Garden Show always reminds me of the miracle of spring in my own garden.
Those first dainty Glory of the Snows and Scilla, pushing up through the snow, tiny sirens of blue crying out from the awakening earth, "It's Spring!" The crocus and daffodils join in the show and then, taking their time, are those long-stemmed, elegant silken tulips, awaiting their close-up in the sunny spotlight. Until the deer find them, that is, usually right after the tender flower heads form. They're as appetizing as the first spring asparagus are to us. More Hollandaise with your tulips, Mr. Deer? I like deer, just nibbling on someone else's garden.
It's always a magical time in the garden when spring bulbs emerge. To think, you buried those dry, colorless bulbs months ago, deep in the dirt, a solemn funeral for summer. Burying life until the cold, dark winter passes.
Some things, when left to grow and develop in their own quiet time, will transform in their spring. Green stalks of life will break free from the thawing ground and emerge, alive and vibrant, a feigned winter death. I wasn't asleep, my eyes were just closed!
The Garden Show is a microcosm of spring. It could transform you. Lift your spirits! Holding your little marigold, you'll feel that tingling in your green thumb again, notice a spring in your step. You'll buy a packet of seeds, snow peas, perhaps, and dream of spring while the scent of hyacinth still lingers on your parka.
Did I mention it's free? And besides that, there are lots of fun and games for the kids, oh, and free cake! Flowers, fun and free cake. It's the next best thing to the real spring.
So if you were busy this weekend, ushering out the Winter Olympics, bidding farewell to your curling stones and brooms, worry not. You have another chance to see the Lawn & Garden Show, it's being held over! And if you miss that, both the Kingston and Newburgh locations will spring into Spring March 3-5th. Go. Eat cake. After this winter, you deserve it.