Just passing through
Some visitors to the old farm yesterday. I was driving by and pulled over to take a pic of them but they started waddling over to me. I swear I thought they were going to ask for directions! I didn't want them to get hurt crossing the road, so I left them there...I'm sure they found their way or at least enjoyed the field during their visit.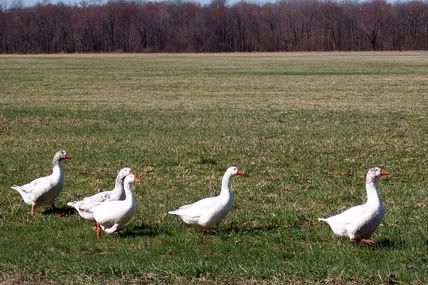 Finally got some prints made and framed for my living room "gallery." (Man, I stink at hanging pictures!) I got a few enlarged at Ofoto and I plan to give them to a friend for his new restaurant opening. Maybe I'll get a few nibbles if he puts my card up with the photo. If not, it'll still be nice to see my photo there when I eat
the
best mexican food in the county!