Stuffing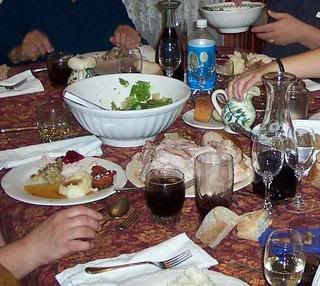 Stuffing is very personal. Each family has their own method and ingredients and vessels in which to bake it. Our family is of the classic Pepperidge Farm stuffing recipe variety ( want the recipe from the back of the bag? See below!!) with bacon and sautéed onions and celery and tons of butter and it is, most definitely, cooked inside the bird. The inner cavity stuffing preferable over the neck-stuffed stuffing. Substitutions are not tolerated.



NY Times Stuffing Article (may require free registration)
Maya Angelou's "Hallelujah! The Welcome Table"
Pepperidge Farm Stuffing as my mom prepared it:
One bag "seasoned stuffing"
Bacon, eight slices, fried to just crisp, then rough chopped
One large onion, 1/4" dice
Two stalks celery, 1/4" dice
(one cup mushrooms, sliced, optional: that's my addition...mushroom lover!)
One cup chicken broth
One cup milk
1 1/2 sticks butter
1 tsp salt
1/2 tsp black pepper
1/2 tsp garlic powder
1/2 tsp thyme
2 Tbsp. parsley
In a large frying pan, add one stick of butter. Melt it over medium heat.
Add onions and celery and saute until onions are translucent, and just starting to caramelize, about 10-15 minutes.
Add the remaining butter and melt. Cool slightly.
In large bowl, add stuffing bag contents. Add seasonings. Toss well. Add bacon and onion/celery/butter, mixture. Mix well with hands or large spoon. Add milk and 3/4 of the broth and mix well. Let it sit for a few minutes so liquid is absorbed, then take a handful of stuffing and squeeze it in your palm. If it binds together loosely, it's moist enough. If it doesn't bind at all, add the remaining broth. You don't want it soggy, but not too dry either.
If you're cooking it in the bird (the best way, if you ask me), you can add slightly less liquid. If cooking in a separate pan, moisten it a little more, with water if necessary.
When I roast a turkey, I do it this way cooked breast-side DOWN for the first 2/3 of the cooking time, then flipped over for the last 1/3 to brown...always moist, juicy, tasty and cooks quickly.
Clean out the bird, etc, and dry cavity. Season with salt and pepper inside and out. Stuff bird inside cavity (don't pack it or overstuff...leave enough room so you can fit your fingers in the top above the stuffing. Stuff the neck area at the other end, don't overpack. (secure that with long skewers). Cook remaining stuffing in a greased loaf pan covered with foil for 20 minutes, then uncovered for the last 15 minutes. Grease bird lightly with bacon grease (ack! I know, but it's just a little and you skim it off the drippings before you make the gravy, I promise). Place bird breast side DOWN on the roasting rack, set in a large roasting pan.
Roast turkey in a preheated 450degree (yes, 450) oven for 15 minutes. Then reduce oven to 325degrees and cook for one hour without opening oven. After one hour, flip bird over carefully, watching the drippings because they're hot...so that the breast side is up for the last 1/3 of the cooking time (depending on your bird size...figure 15 min. per pound for unstuffed, 20 minutes for stuffed). Baste every 20 minutes after that with pan drippings (use a large spoon). Cook until meat thermometer inserted into the thickest part of the meat (breast where wing joint attaches) reaches the food safe temp of 165. Make sure the stuffing gets up to 165degree temperature, too. But there's no reason it won't unless you packed it in or you chilled it beforehand (don't!).
Remember, cooking is about giving love. Giving love to the food you're preparing and giving love to the people you share it with. It's not about the food in the end. It's about the gathering. The food just gets them there! No worries. Cook, love, eat, be happy, repeat.
Happy Holidays!