More from the Dutchess County Fair
It's a girl! The Fair dedicated an entire tent for a Dairy Cow Birthing Center this year. We got there just one hour after a calf was born. There were three born during the six-day fair. When we saw "Ken," he was still all wet from the delivery and couldn't stand up yet. When he tried to stand, the crowd "aaaw'd" and "oooh'd" and cheered him on. I'm not sure why we cheered, but you just wanted to see that little guy get on his feet. We even heard his first "mooo!" The nervous mother didn't care for the applause and, in between his wobbly attempts, licked him clean, keeping one eye on the curious spectators.
Proud Mommy & Baby Ken, born 8/27/05 at 10:25am.
One on one with a dairy cow.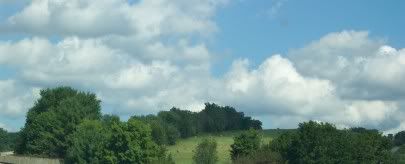 Blue skies on the way to the Fair.