Eagle eyes...or maybe a hawk
I went out recently to visit the Hudson River to see how the ice
floes
were flowing in late winter. On the way, I spotted a
raptor
of some sort sitting in a towering dead
tree
. I couldn't believe how beautiful he was, so I pulled over on this very busy road and jumped out of the car with camera in hand. I tried to sneak up on him..ha! Golden eagles can
see
a hare up to a mile away...what was *I* thinking? I zoomed my digital camera in as far as it would go while I was walking up to the tree. He spotted me, of course, and began to fly. Luckily, he flew right overhead and I got my first ever raptor-in-flight photo.
I searched the internet for wingspan photos of raptors so I could identify the one I saw. After many failed searches, I emailed our local newspaper's environmental editor to see if he could ID it. He wrote back, flattered, made a guess but referred me to the local bird club president. She agreed with him and now I have two new nature friends!
This is the red-tailed hawk, probably a younger one, quite common in Dutchess County, NY. I like when they use the word "common" when it comes to animals.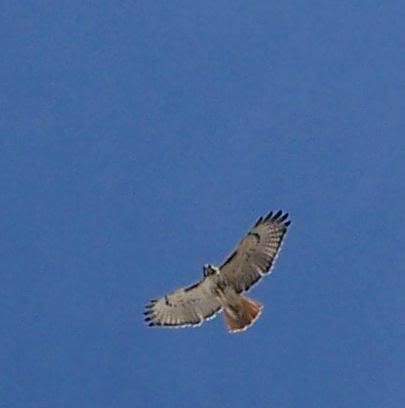 And I got a seagull, too, but it wasn't as exciting... = )